Redistribution of wealth, one world religion and one world government. This is just what the Book of Daniel and Revelation tell us the beast will do.
I only posted one article on each subject, but if you do a quick search you can find hundreds of articles.
Pope Francis calls for wealth redistribution
Pope Francis on Friday called on United Nations leaders to take better care of the poor and advocated for a "legitimate redistribution" of wealth.
"Equitable economic and social progress can only be attained by joining scientific and technical abilities with an unfailing commitment to solidarity" with the poor, the Pope said, in addition to a new spirit of generosity, according to a transcript published by Vatican Radio. 
In one of the most economically liberal statements made by any Pope, Francis called for "the legitimate redistribution of economic benefits by the State, as well as indispensable cooperation between the private sector and civil society."
Francis criticized global wealth inequality and the growing level of poverty and hunger.
"An essential principle of management is the refusal to be satisfied with current results and to press forward," he said. "Much more needs to be achieved, since an important part of humanity does not share in the benefits of progress and is in fact relegated to the status of second-class citizens."
Francis added that nations must move away from the "economy of exclusion" in his address to U.N. Secretary General Ban Ki-moon and the heads of major U.N. agencies. They are meeting in Rome this week.
Francis has made a big splash since he becoming pope in March 2013, making bold statements on LGBT equality and sex abuse in the Roman Catholic Church.
Earlier this week, news broke that the Vatican had defrocked nearly 900 priests in the last decade.
Pope's global warming encyclical calls for one world government
Ever since the announcement a few months ago that Pope Francis was developing an encyclical to address global warming, there has been a lot of discussion about what could be motivating the leader of the Roman Catholic Church to elevate the unproven science to the level of church doctrine.
After a leaked draft of the declaration to the media, we got a glimpse at the answer to that question. Let's just say that concerns about the pope being motivated by socialistic or communistic ideology were proven to have some merit.
Pope Francis is calling for changes in lifestyles and energy consumption to avert the "unprecedented destruction of the ecosystem" before the end of the century, warning that failure to act would have "grave consequences for all of us."He also singled out climate-change deniers for being obstructionists, stating: "The attitudes that stand in the way of a solution, even among believers, range from negation of the problem, to indifference, to convenient resignation or blind faith in technical solutions."
In hindsight, this isn't really much of a surprise. Radical environmentalists, even if they are Catholic, have joined the chorus of voices spreading the false gospel of global warming, predicting the imminent demise of the world because of sport utility vehicles and incandescent light bulbs.
What is a surprise is the portion of the encyclical dealing with how the pope would like to see this happen. As an enforcement tool, Francis is also calling for a new global political authority with the responsibility of "the reduction of pollution and the development of poor countries and regions." (emphasis mine)
A NEW GLOBAL AUTHORITY!  So, why should we care?
As I reported earlier this month, Obama officially expressed support for a proposal by the United Nations to find a way to usurp Congress and the U.S. Constitution in order to enact the U.N.'s global warming "fix" using the authority he is seeking in the currently stalled Trans-Pacific Partnership (TPP) and Trade Promotion Authority (TPA). Under the "fast-track" authority Obama would have under this legislation, nothing could stop him.
Now we have the spiritual leader of over 1.25 billion people around the world advocating the same thing. That's two of the world's most powerful players calling for global government.
Global warming has proven to be a fraud, but it could be the hoax that triggers the death of American sovereignty, and the birth of the New World Order.
Pope Urges All Religions to Unite for Peace, Justice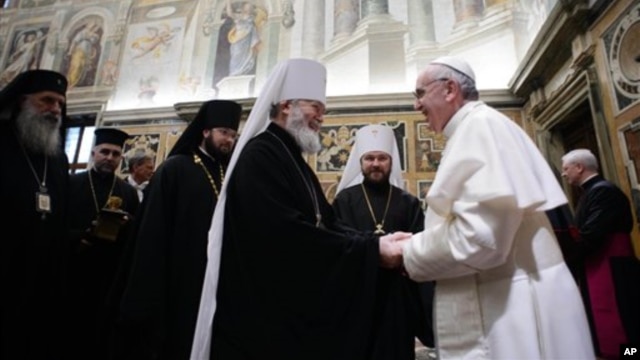 Pope Francis meets with various representatives of other religions, at the Vatican, March 20, 2013. (photo L' Osservatore Romano)
Article from here
VATICAN CITY—
Pope Francis urged members of all religions and those belonging to no church on Wednesday to unite to defend justice, peace and the environment and not allow the value of a person to be reduced to "what he produces and what he consumes".
Francis, elected a week ago as the first non-European pope in 1,300 years, met leaders of non-Catholic Christian religions such as Orthodox, Anglicans, Lutherans and Methodists, and others including Jews, Muslims, Buddhists and Hindus.
"The Catholic Church is aware of the importance of furthering respect of friendship between men and women of different religious traditions," the Argentine pontiff told the religious leaders in an audience at the Vatican.
Speaking in Italian in the frescoed Sala Clementina, he said members of all religions and even non-believers had to recognize their joint responsibility "to our world, to all of creation, which we have to love and protect.
"We must do much for the good of the poorest, the weak, and those who are suffering, to favor justice, promote reconciliation and build peace," he said.
Francis told the religious leaders to fight "a one-dimensional vision of a human person, according to which man is reduced to what he produces and what he consumes," which he said was "one of the most dangerous snares of our times".
While he said history had shown that any attempt to eliminate God had produced "much violence," he reached out to those who seek truth, goodness and beauty without belonging to any religion.
"They are our precious allies in the commitment to defend human dignity, build a more peaceful coexistence among people and protect nature with care," he said.
Francis' description of people who belong to no religion as "precious allies" in the search for truth was a marked contrast to the attitude of former Pope Benedict, who sometimes left non-Catholics feeling that he saw them as second-class believers.
Since his election a week ago, Francis has set the tone for a new, humbler papacy, calling on the Church to defend the weak and protect the environment.
In another sign of his simpler style, Francis addressed the religious leaders while seated in a beige armchair and not the usual elaborate throne used in the ornate hall for audiences.
Catholic-Jewish Commitment  
"I feel a great deal of excitement and optimism and hope," said Jerusalem-based Rabbi David Rosen, International Director of Inter-religious Affairs for the American Jewish Committee.
"He is deeply committed to the Catholic-Jewish relationship," said Rosen, who attended the meeting.
Yahya Pallavicini, a leader of Italy's Muslim community, said he was impressed by the pope's insistence of inter-religious friendship.
"Friendship is a core way to increase brotherhood between believers and also to increase the deepness of the dignity of humanity," he said after the meeting.
"We can't consider man only as a consumer or as someone who has to be considered only in terms of the market but as a believer and as a person who has the holiness in his heart."
Before his address, the pope had a private meeting with Ecumenical Patriarch Bartholomew from Istanbul, who attended Francis's inaugural Mass on Tuesday.
It was the first time the spiritual head of Orthodox Christians had attended a Roman pope's inaugural Mass since the Great Schism between western and eastern Christianity in 1054.
At Wednesday's meeting, Francis called Bartholomew "my brother Andrew," a reference to the apostle who was the brother of St. Peter and was the first bishop of the Church of Byzantium.
Francis also held a private session with Metropolitan Hilarion, the foreign minister of the Russian Orthodox Church, the largest in the Orthodox world.
Also at Wednesday's meeting was Abe Foxman, national director of the Anti-Defamation League in the United States.
Foxman is a Jew born in Poland in 1940 and saved from the Holocaust by his Polish Catholic nanny, who raised him as a Catholic during the war and then returned him to his family. His parents survived the war but 14 family members were killed.
"I asked him to bless the memory of the Catholic nanny who saved my life and he said he would," Foxman said.
Archbishop of York John Sentamu led a delegation from the Anglican Communion.
Other guests included World Council of Churches General Secretary Rev Olav Fykse Tveit and Jordan's Prince Ghazi bin Muhammad, head of an Islamic group that launched a dialogue with the Vatican after Pope Benedict angered Muslims in 2006 with a speech that implied their faith was violent and irrational.